Dr.Web for Android's Parental Control
A single Dr.Web program — all the components needed to protect a child's Android device
This feature is not available in Dr.Web for Android Light.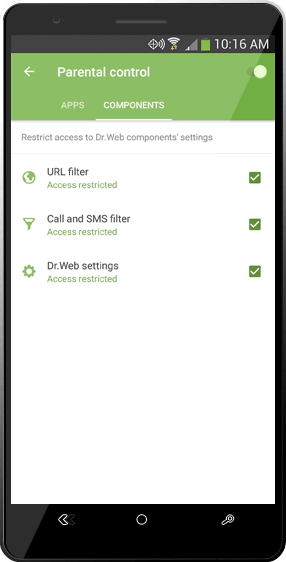 Everything you need to protect your child's device.
No access to unwanted sites
Access to sites that can cause psychological and moral harm to children can be blocked according to a Blacklist of specified sites, webpages or thematic groups of sites (gambling, social media, etc.). No one except parents will be able to change the URL filter's whitelists and blacklists.

No access to unwanted applications
Dr.Web will prevent your children from accessing applications that, in your opinion, they don't need and won't let them launch those applications. And adding popular markets to the blacklist won't let them buy or download a free malicious application.

No calls and SMS messages from strangers
Dr.Web won't allow your children to add unwanted numbers to the Call and SMS Filter. For example, you can allow incoming calls and SMS messages only from specified numbers or numbers on your contact list. Thus, your child will only be able to reach those whom you know.

No tampering with the settings by children
Dr.Web won't allow your children to change the restrictive settings you establish for the Dr.Web protection components because Dr.Web Parental Control settings are protected with an account password. The device administrator (i.e., a parent) sets the password.
Do you want to get information about where your child is?
Enable and configure the device location option in Dr.Web Anti-theft
Configure restrictions once and be confident in Dr.Web's protection.
Subscriptions
From 0.06 € per day and less
*

without the right to transfer the license to another device
Dr.Web Parental Control features
* in Google, Yandex, Bing, Yahoo and Rambler
Restrictions
The SMS functionality is only available in the Dr.Web for Android version installed from Doctor Web's site. Find out more
© Doctor Web
2003 — 2022
Doctor Web est un éditeur russe de solutions de cybersécurité axées sur la détection de menaces et les technologies de prévention et de réponse aux cyberattaques.